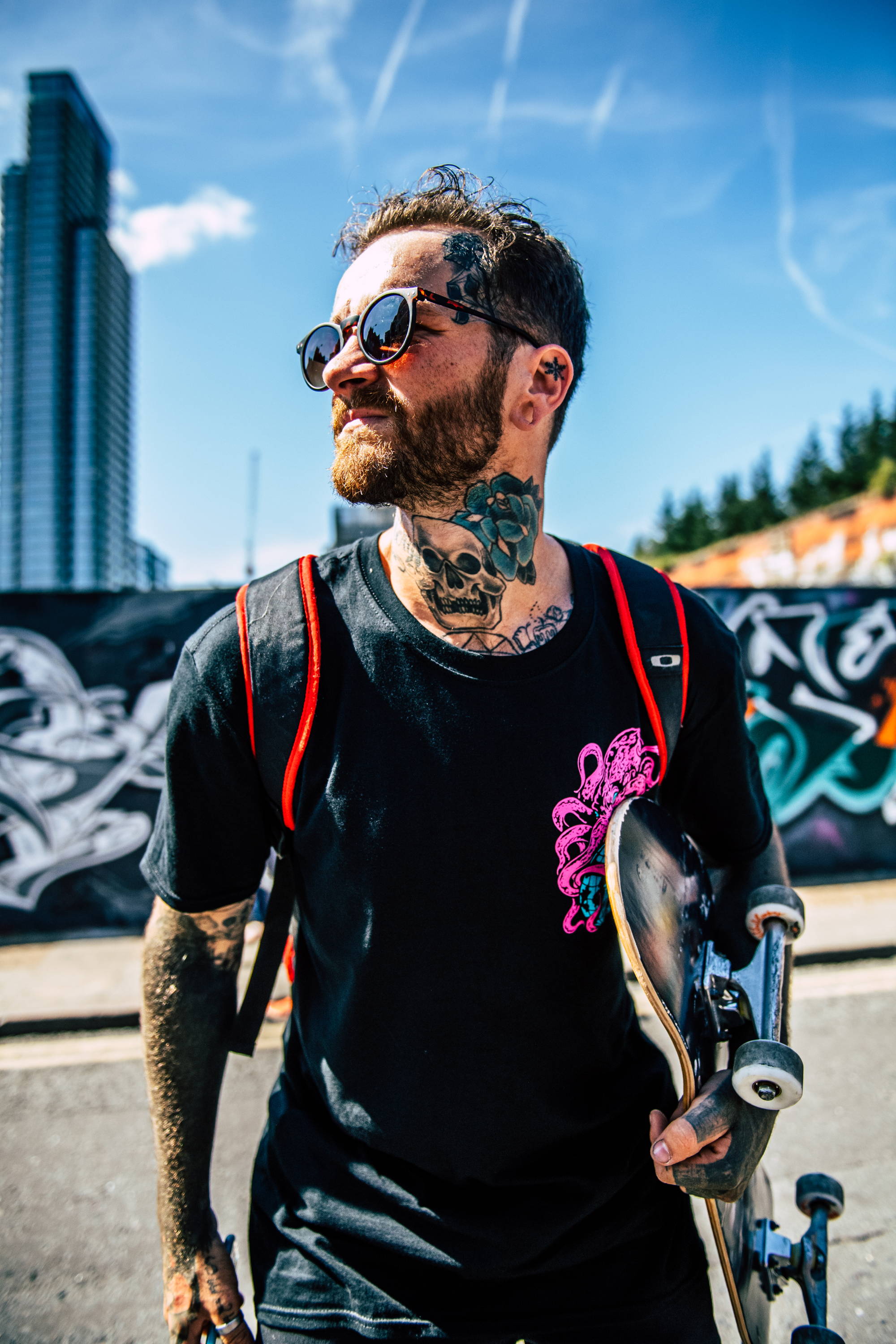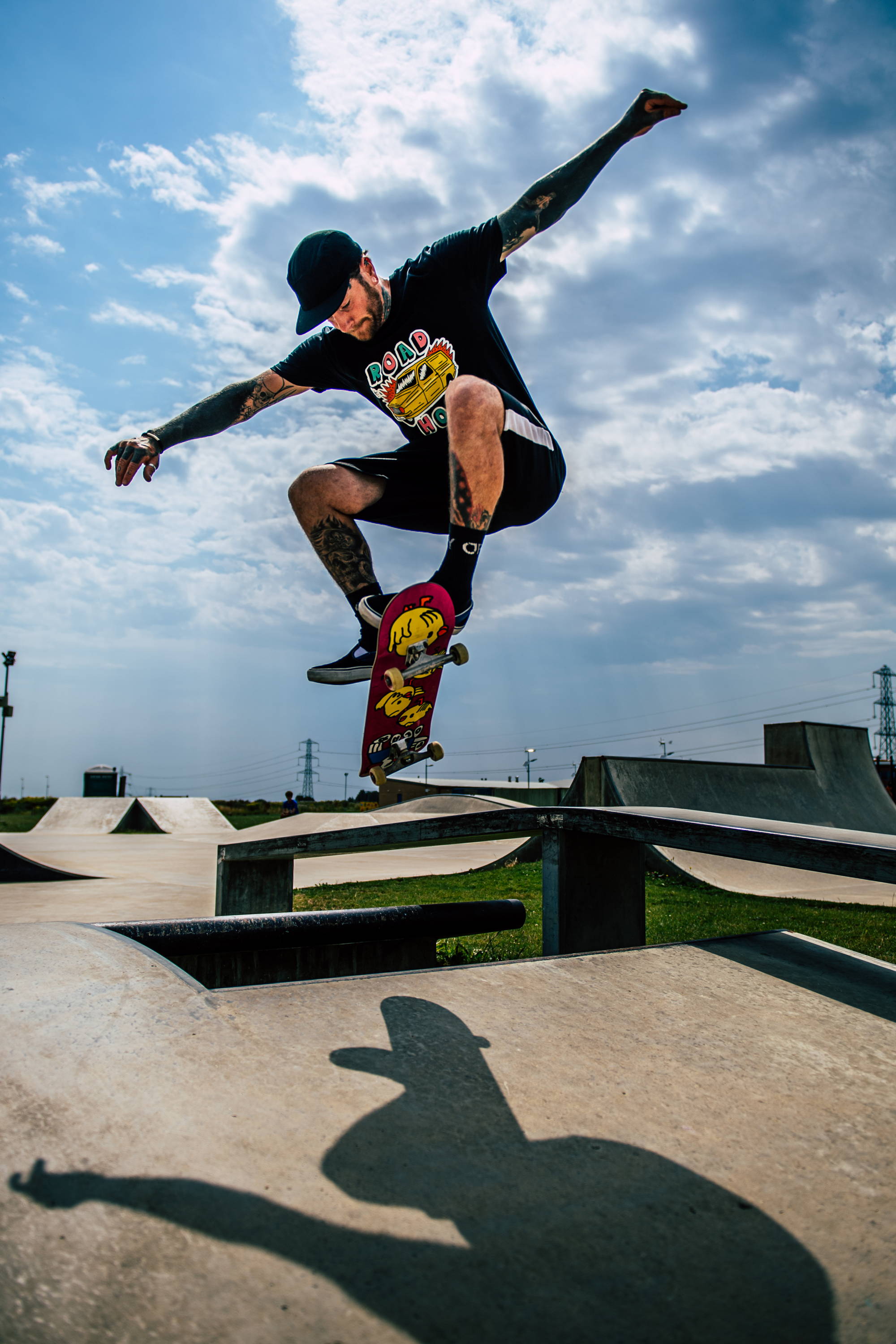 When did you start skatingboarding and what attracted you to it?
I first started skateboarding around 13 years ago when I was 16 I lived in a place called Barry island and my next door neighbours kid had a skateboard for his birthday and his mum wouldn't let him use it. She brought it to me because I was always jumping off things with my bike and jumping of walls.
How has skateboarding translated into your personal style? 
I think skateboarding to be honest gifted me with the style I have today
Have you any tips for aspiring skateboarders? 
Do I have any tips for aspiring skateboarders ? Just one , pick up a skateboard. It was the best thing that ever happened to me because you will learn something no one or no one thing can give you. A complete feeling of freedom to do what you want and when you want.
Not just that, skateboarding is a lifestyle that when you get into your in it for life. I will always be forever grateful for the people I've met and lost through skateboarding, and the humble feeling I get every time I step on my board.
What are your favorite kinda deck graphics?
I like something dark and gnarly like the creature graphics but then on the flip side I do like the cartoon designs like Dirty ghetto kids do !
What are your favorite top 3 skate brands right now? 
I've always been a big fan of Creature skateboards, I think their team are very well suited to the brand and not just that their boards are super solid and graphics are insane.
Vans skate shoes have always been another one for me , I was riding for Supra footwear for 4 years and nothing they could give me would beat the feel of the classic vans slip on !
Independent trucks. There new titanium truck is crazy light and durable. There around £90 a pair but I will not skate anything else. RIDE THE BEAT FUCK THE REST.
What are your tips for dealing with the fear factor?
When it comes to dealing with the fear of new tricks in skateboarding I wouls say 
start with something small and build your way upto bigger things. I kinda did it the other way I would learn on the biggest ramp/obstacle i had around because then everything else smaller would be easy. If that makes sense to you guys.
Where is your favorite place to skate and is there somewhere specific you would love to thro down the board?
I like to take my board everywhere and skate where i can, new places open up so many possibilities and it's the worst when you see a rad spot and don't have your board.  We are the streets, different to your average human eye as you can imagine. I have always wanted to go to Los Angeles and Cali to see what it's like over there and just to ride down the promenade of one of the coasts.
Do you have any skating memories that stand out to date?
I have a lot of memories of skating with my friends and going places, winning competitions and travelling. I wouldn't say I have a favourite because to me I hold every moment very dear to my heart because without skateboarding I wouldn't have them. I feel very blessed to meet the people I have and will go on to meet.
Are you a competitive person?
If by competitive within the sport and the competing against myself, then yes I guess so. Pushing yourself to do better tricks and constantly go through ways of being more comfortable to land new tricks. Entering competitions is always good fun because I can catch up with guys I don't see often and it's always good to skate with your homies.
Any projects, events or collabs coming up in 2019/20 that you'd like to share?
I've actually been very excited lately working with them wankers at hobo jack. (Scratch the wankers bit ) we have some awesome new things coming up from what I know and launching the skateboard side of it has been good fun working with them
I'm currently working on a street edit and have a few trips in mind I would like to go to , Barcelona mainly such a rad place to skate, as for competitions there will be a few jams and opening of new parks that I get involved in with maverick skateparks..
What is the best piece of advice you have ever received? What is the worst?
Best advice i was ever given was to always follow what I believe regardless of how stupid or insane the idea was. To never look back and to alays look forward beacuase if you know what you want it will always be the right path.I've lived everyday by what my heart has told me and i've done alright so far , Don't be scared. Be brave. In other words. "GET GNARLY"
Worst advise - I don't do negative thoughts so i'll leave you with these.
"Quotes are nothing but inspiration for the uninspired"
"even a dead clock shows the correct time twice a day"
What are your future aspirations?
To be honest I take everyday as it comes, I have a bad habit of planning things to know what I'm doing which isn't bad in a way because it's nice to have something to look forward to. I will keep skating and hopefully find more ways to get involved with hobo jacks clothing and to get the hobojacks skateboarding page more involved around the UK. The future to me at the minute is very exciting and there's a lot going on and about to happen.
Describe the current state of skateboarding?
I believe skateboarding at the minute is in a good state I see a lot more kids getting involved and a lot more girls too, skateboarding is one big community / family and everyone treats everyone as an equal it doesn't matter if your black / white / homosexual / transgender / Asian, none of that matters. It's all about being involved maybe we should give everyone in the world a skateboard and we could get everyone to get along.
2020 will be skateboardings first appearance into the Olympics I believe it will open new avenues for skateboarders to hopefully live off , I mean why should guys like Ronaldo get paid a fuck load a week for chasing a rubber football around while touching men when I'm chucking myself down sets of 15 stairs and could brake my neck.  
People need to realise skateboarding is a serious sport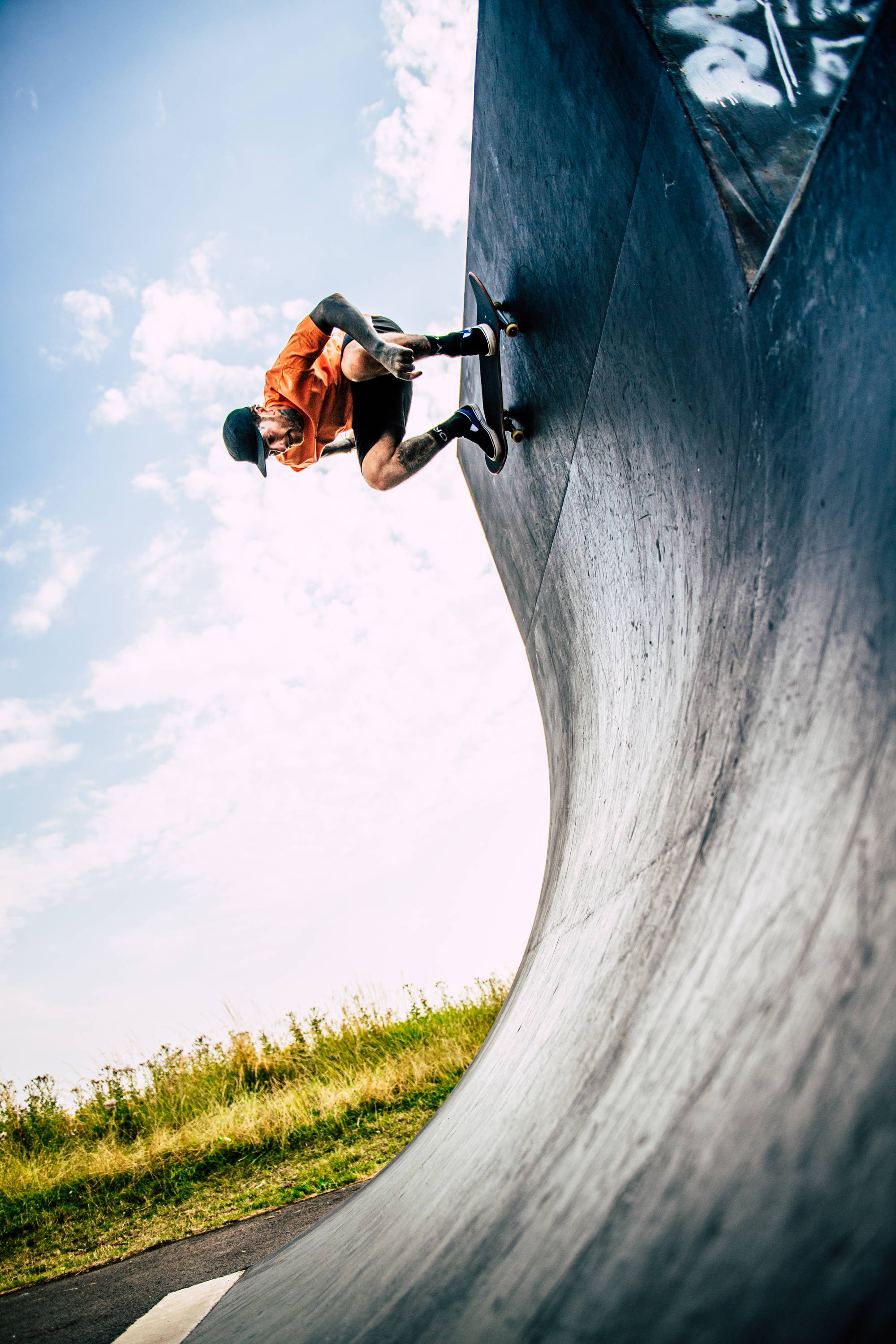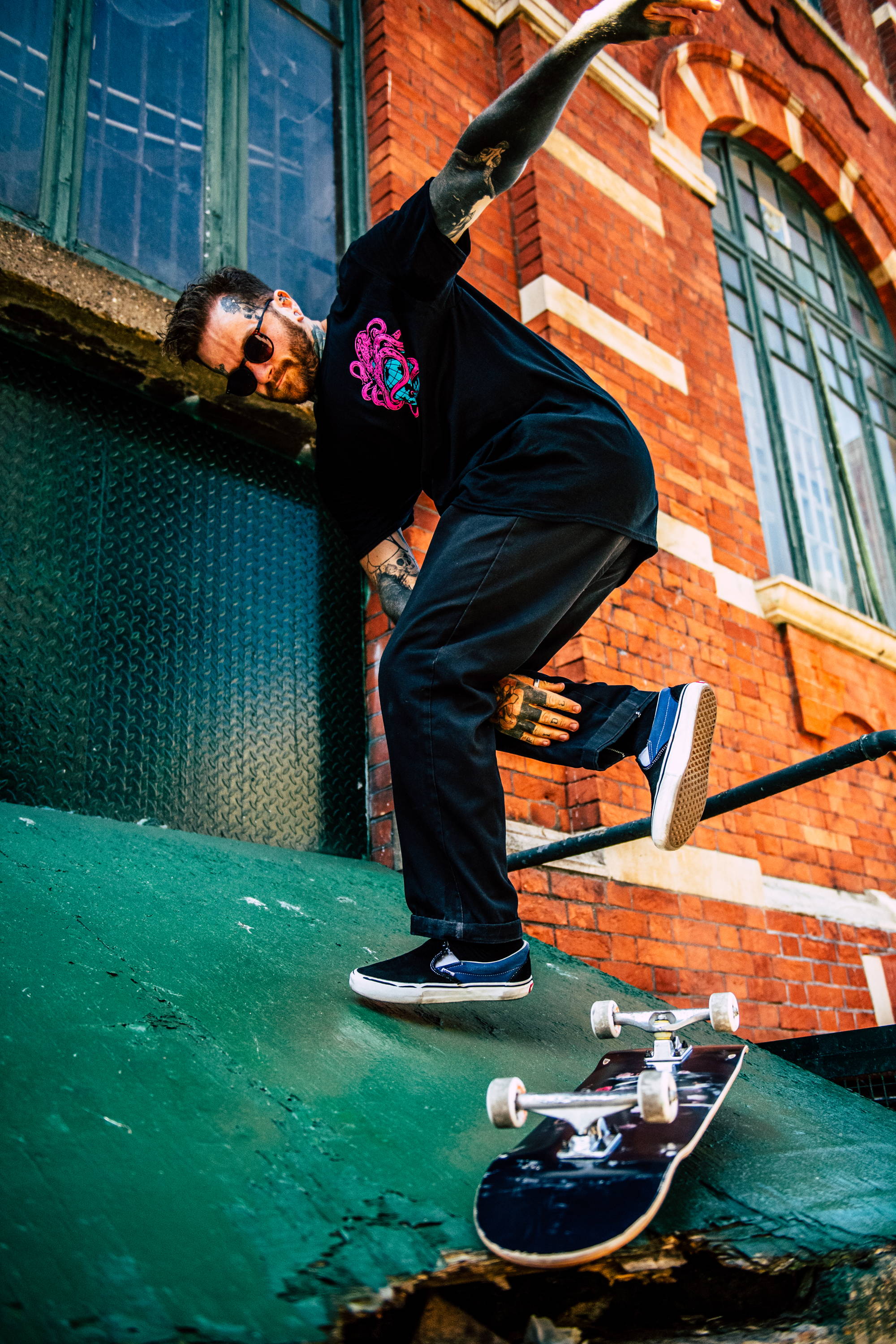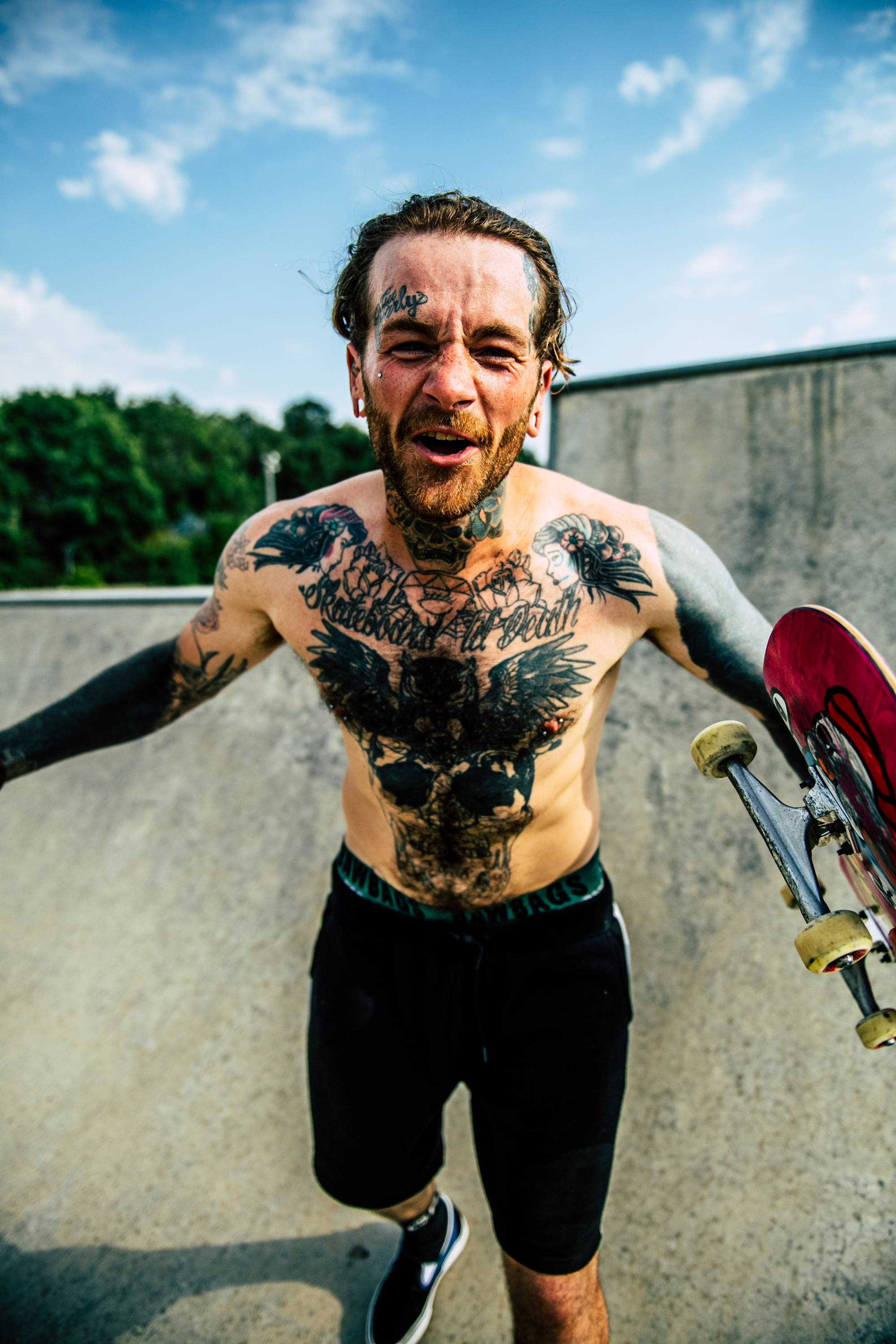 ---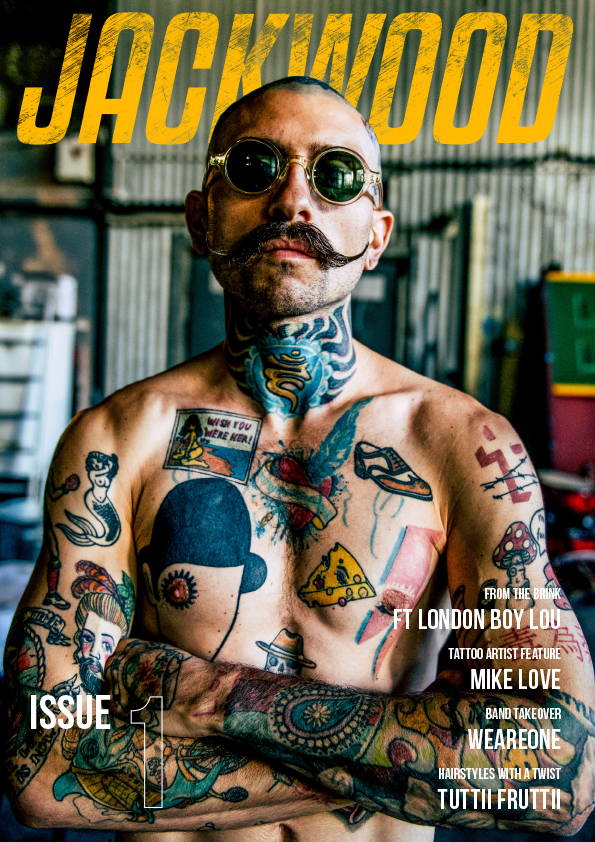 Jackwood magazine is an editorial for the people, by the people. Over the years in our relative industries we have met some amazing people from all walks of life, all of them with unfathomably inspiring stories to tell – and we want Jackwood to be the platform for them to be heard. In each month's edition we will be featuring incredible individuals and the highs and lows they deal with in their respective industries, not to mention features on artists, venues, DJs, bands, clothing brands and much, much more besides….
If you have enjoyed reading this article and want more, you can download Jackwood Magazine for FREE.
---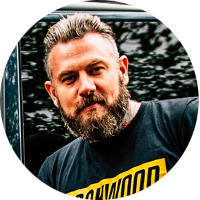 Article by
- Danny Woodstock -
@dannywoodstockphotographer
Q&A WITH HAND POKE TATTOO ARTIST MIKE LOVE