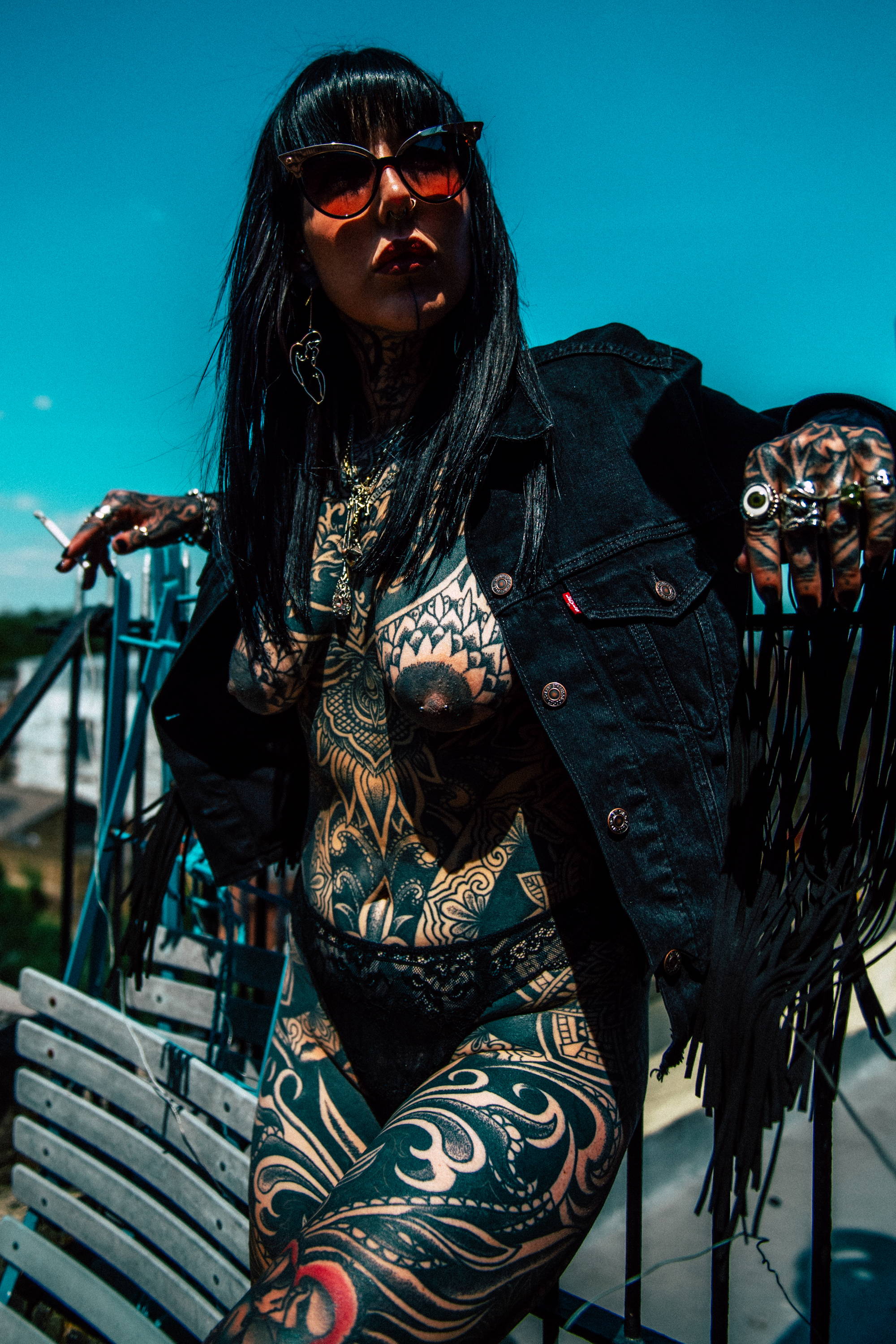 FROM AFAR YOU COULD BE MISTAKEN FOR THINKING CHARLOTTE IS ROCKING THE LATEST HIGH END CATSUIT. INFACT CHARLOTTE HAS SPENT THE LAST 2.5 YEARS DEDI- CATING HERSELF TO THE BEAUTIFUL BODYSUIT THAT NOW ADORNES HER. WHO'S THE WOMAN BEHIND THE PATTERNS?
The BodySuit is insane what artist do we have to big up? :)
Thank you! The artist is John Fowler at Eastside Tattoo on Bethnal Green Road, you can find his instagram @mrjohntattoo
Did you research for an artist beforehand?
I went to a few different shops beforehand but wasn't 100% confident that I wanted the bodysuit after speaking with the artists, I then had a couple of pieces tattooed by John, I really loved his work and felt really comfortable at Eastside which I think is a big thing when you're undertaking such a big project, so I then asked John about getting my bodysuit tattooed by him and the rest is history!
How long did the process take?
I was getting tattooed every two weeks for about a year at one point so I got through it relatively quickly, in total it took about 2 and a half years (I think!) I get really bad OCD with things being uneven and unsymmetrical so I was really on it with wanting to get it finished!
Your body is now covered or is it? What's the plan?
Coverage-wise, my bodysuit is complete but I still have a few bits that I want to get done, I have a few areas that we're going to layer with white details and I may get a couple more little ornaments on my face, nothing too drastic there though!
You have your own jewellery range tell us about that and how's business?
I do! I started learning to make jewellery last year and created a collection, largely focused on spinner rings which I love - they're also known as worry rings as they were originally designed as an aid to combatting anxiety, I'm such a fidgeter so I think they're great! My last collection sold out and I'm now working on the next!
Tell us what you do for a living aside from the jewel- lery design and modelling?
I also have a full-time job working in social media for a fashion brand which I absolutely love, it's a really varied role and I get to be involved in lots of photo- shoots there too where it's actually really nice to be on the other side of the camera, you get to see things from a different perspective.
What did you want to be growing up?
I wanted to be a journalist, I actually have a degree in Fashion Journalism and worked for a few independ- ent magazines after graduating, I then fell into social media from that as a lot of my jobs began to focus more on reporting through Twitter and Instagram. When I was really young I wanted to be a vet, I would have been awful! I don't think I quite understood what the job entailed, I just wanted to play with puppies! Also, I'm petrified of birds so that would have been an absolute disaster!
What's the 5 year plan?
That's a difficult one! I'd like to continue with my mod- elling, it's been so great to meet so many amazing, creative people through it so that's something that I can't see myself giving up just yet! I'd also like to trav- el a lot more in that time and eventually get a place with my boyfriend where we can get a dog! - ideally a log cabin in the country but that may just have to be holiday home with my work schedule! That would be a tricky commute!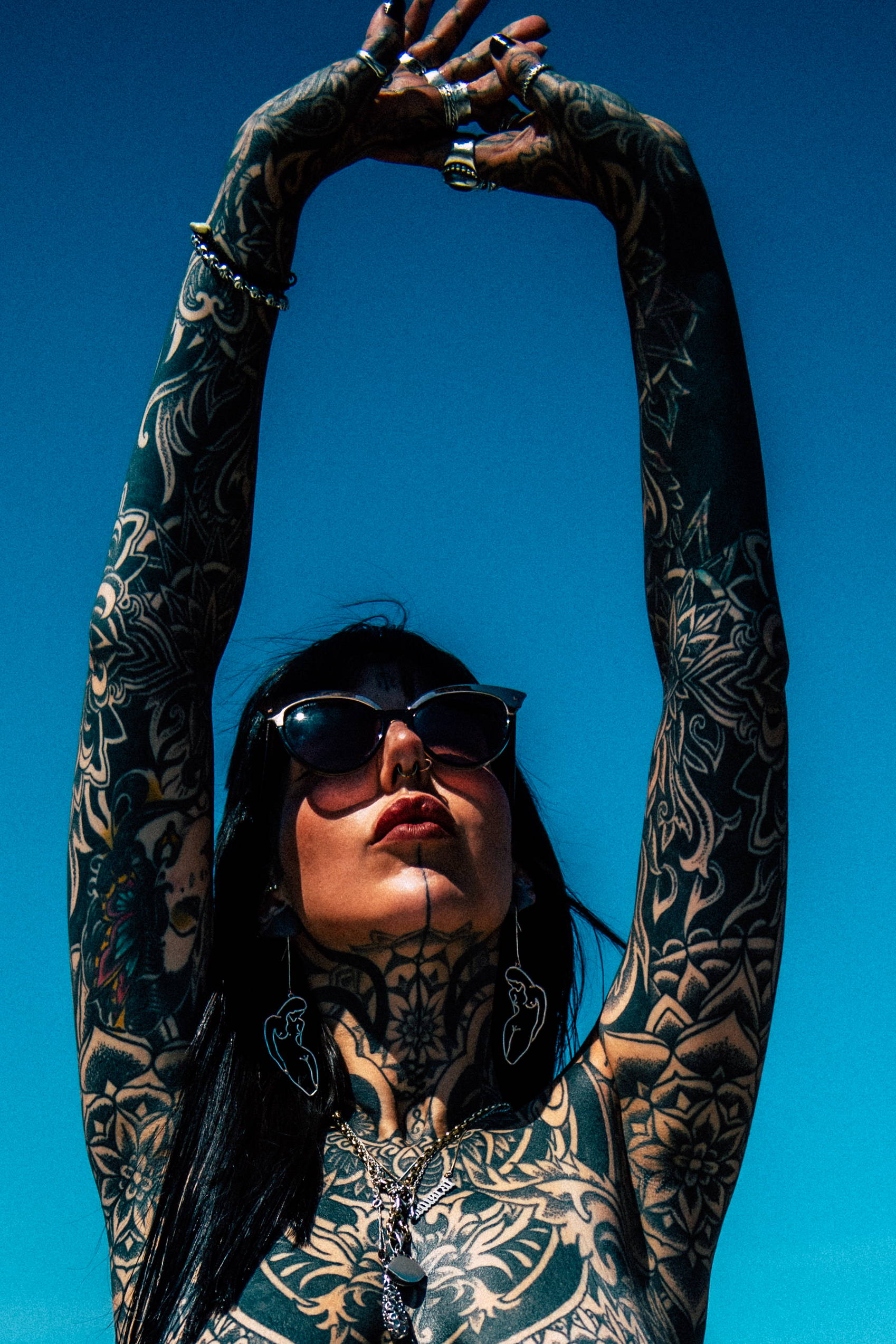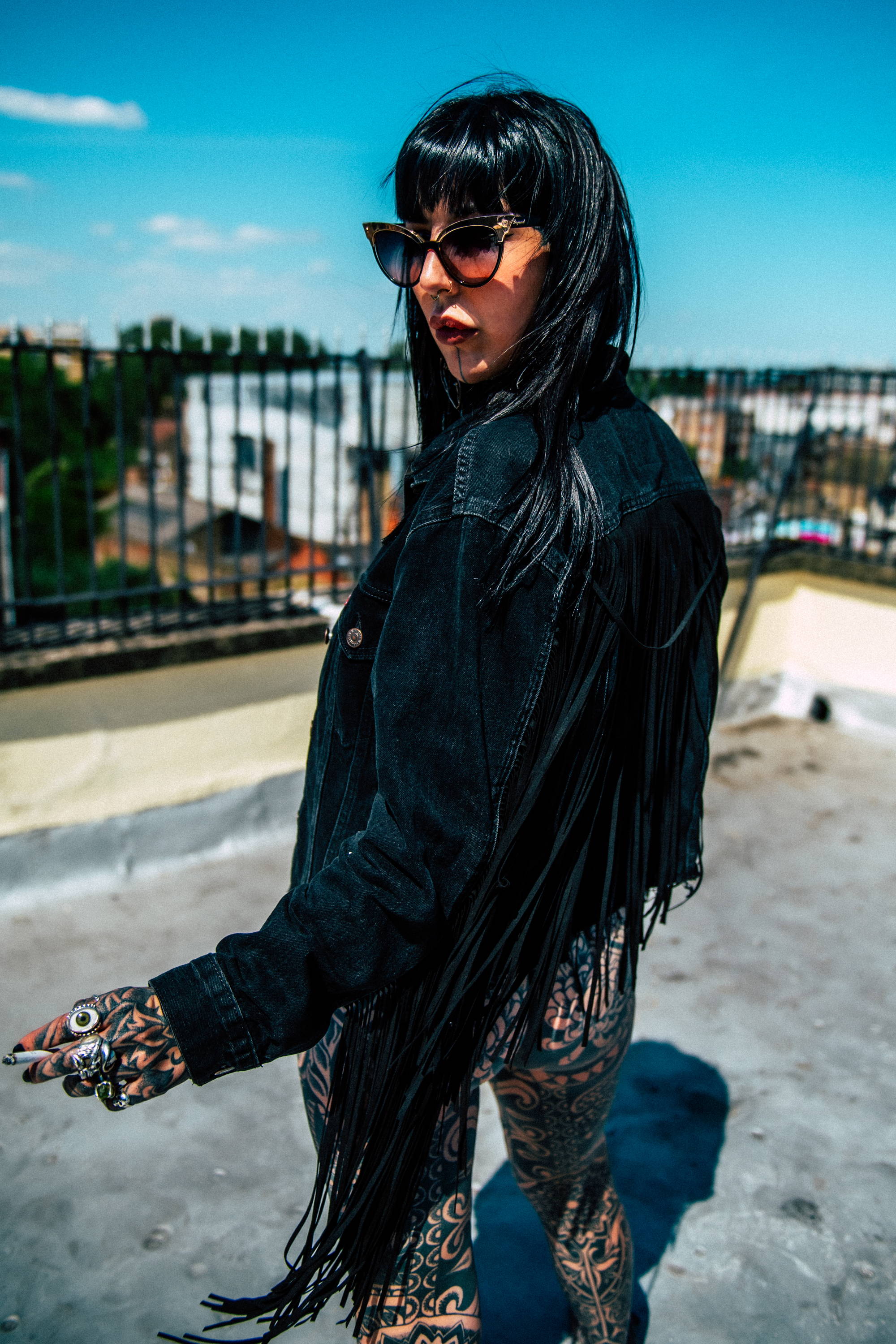 ---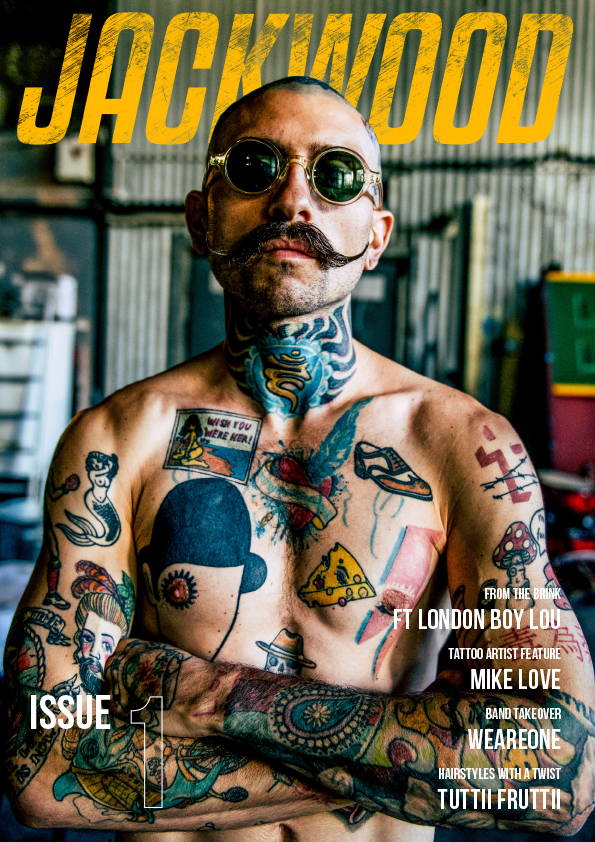 Jackwood magazine is an editorial for the people, by the people. Over the years in our relative industries we have met some amazing people from all walks of life, all of them with unfathomably inspiring stories to tell – and we want Jackwood to be the platform for them to be heard. In each month's edition we will be featuring incredible individuals and the highs and lows they deal with in their respective industries, not to mention features on artists, venues, DJs, bands, clothing brands and much, much more besides….
If you have enjoyed reading this article and want more, you can download Jackwood Magazine for FREE.
---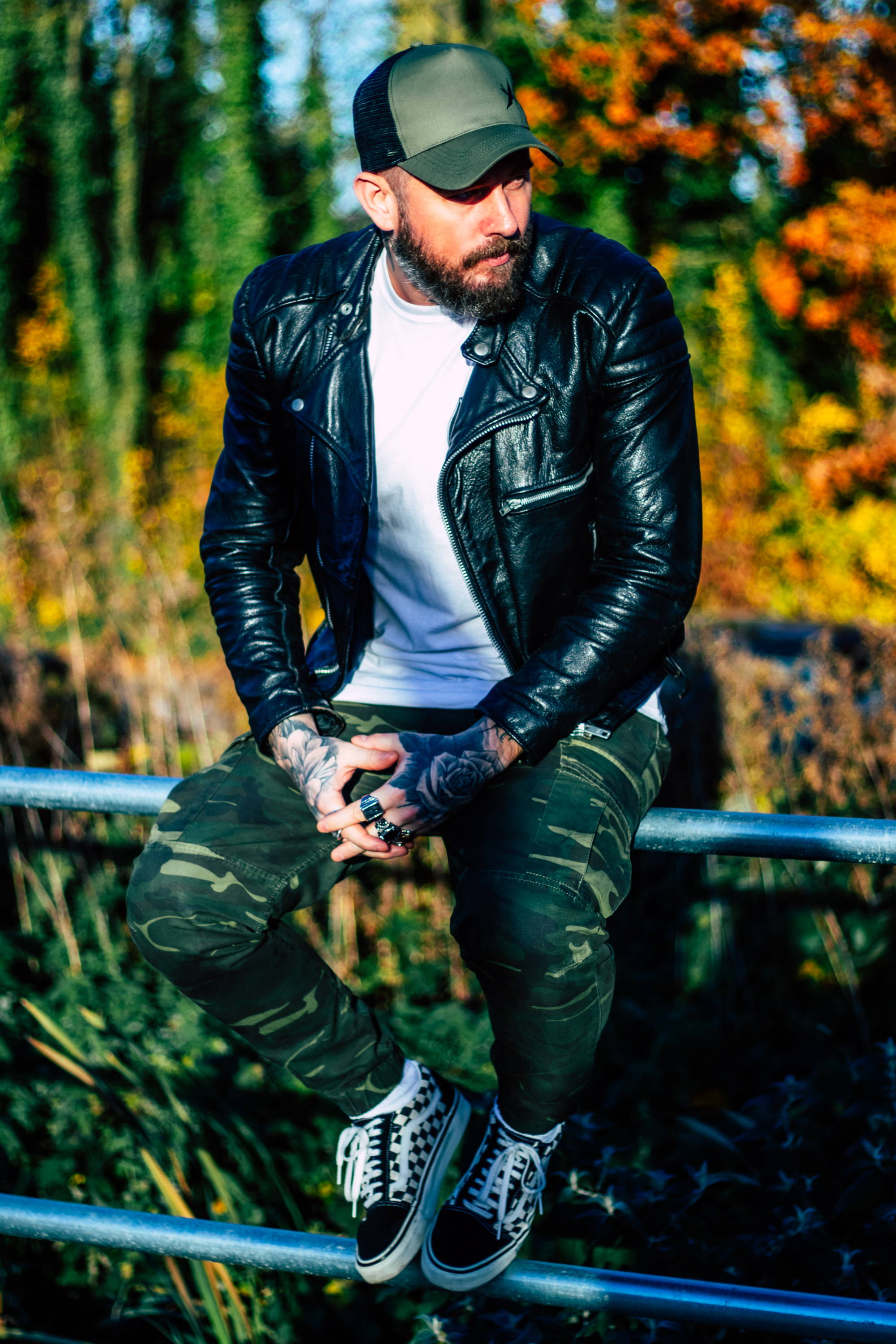 Article by
- Danny Woodstock -
@dannywoodstockphotographer
Q&A WITH HAND POKE TATTOO ARTIST MIKE LOVE